Meetings 
Fall 2022
Thurs. Oct. 13, 4-6 pm: Fall Welcome Reception on the Communication building patio. An informal gathering to usher in the academic year and meet folks involved in the group. Light catering will be provided. Feel free to stop by this Thursday, even if you did not get a chance to RSVP.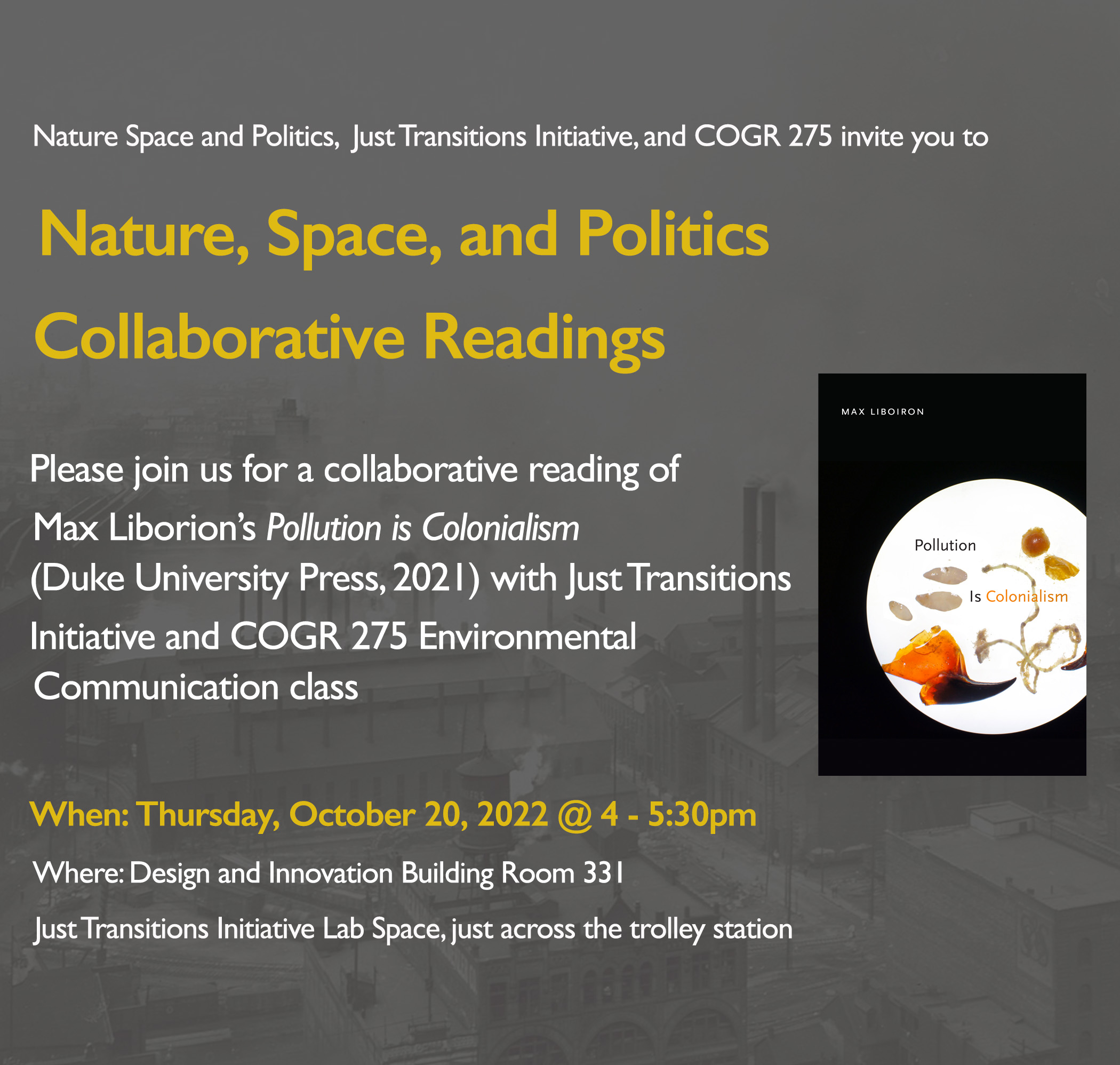 Thurs. Oct. 20, 4-5:30 pm: NSP, Just Transitions and COGR 275. Environmental Communication Collaborative Reading: On Max Liboiron's Pollution Is Colonialism. We are not assigning specific pages, so read any selections that pique your curiosity. Optional to also read the CLEAR Lab's Manual which outlines their research praxis. Meeting will be held in the JTI Lab rm. 331 (Design and Innovation building- across from the Trolley station).
Winter 2023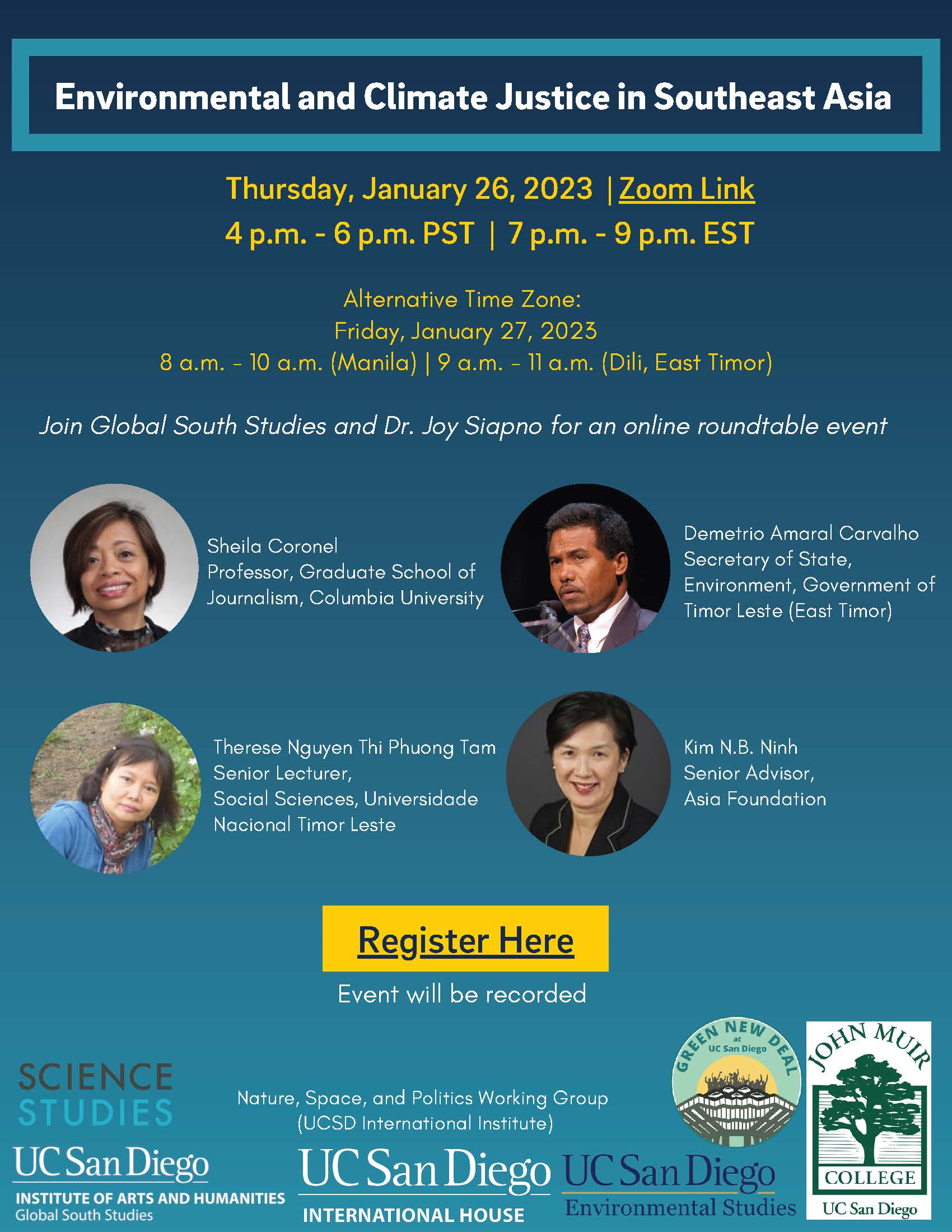 Thursday, Jan. 26, 4-6pm: Please join us for a zoom roundtable on Climate and Environmental Justice in SE Asia. It will feature a fantastic and diverse group of speakers, including a leading journalist and a former Goldman Prize EJ winner from East Timor. This event is organized by Global South Studies and co-sponsored by NSP and a number of other organizations across campus.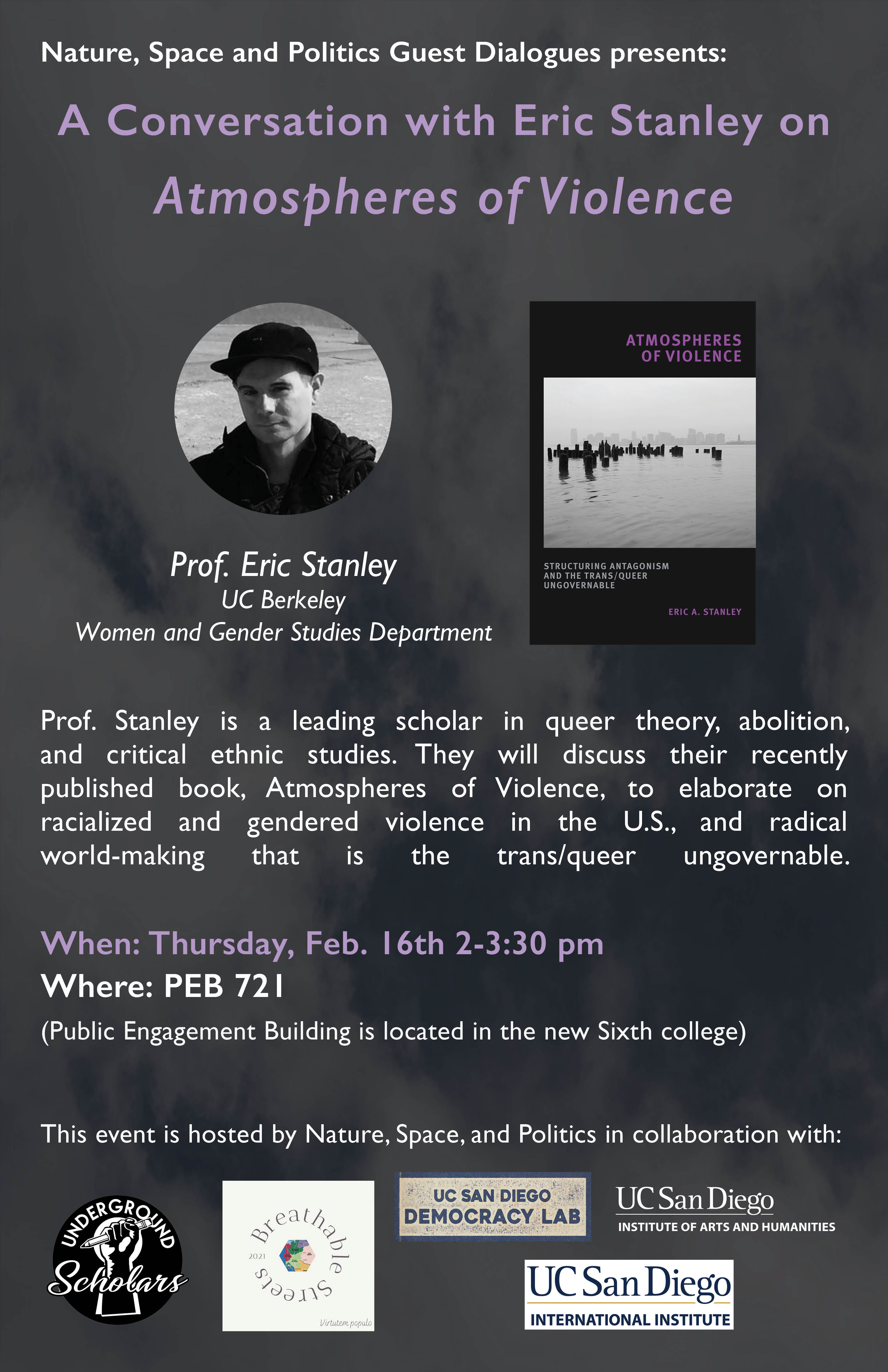 Thursday, Feb. 16,  2- 3:30pm at PEB 721 
(Public Engagement Building, located in the new Sixth College): We are very excited to kick off Winter Qtr. Nature, Space, Politics events with a
book discussion of Prof. Eric Stanley's new book,
Atmospheres of Violence: Structuring Antagonism and the Trans/Queer Ungovernable
. 
This event is co-sponsored by the Triton Underground Scholars, Breathable Streets, the Communication Department's Democracy Lab, and the Institute of Arts and Humanities.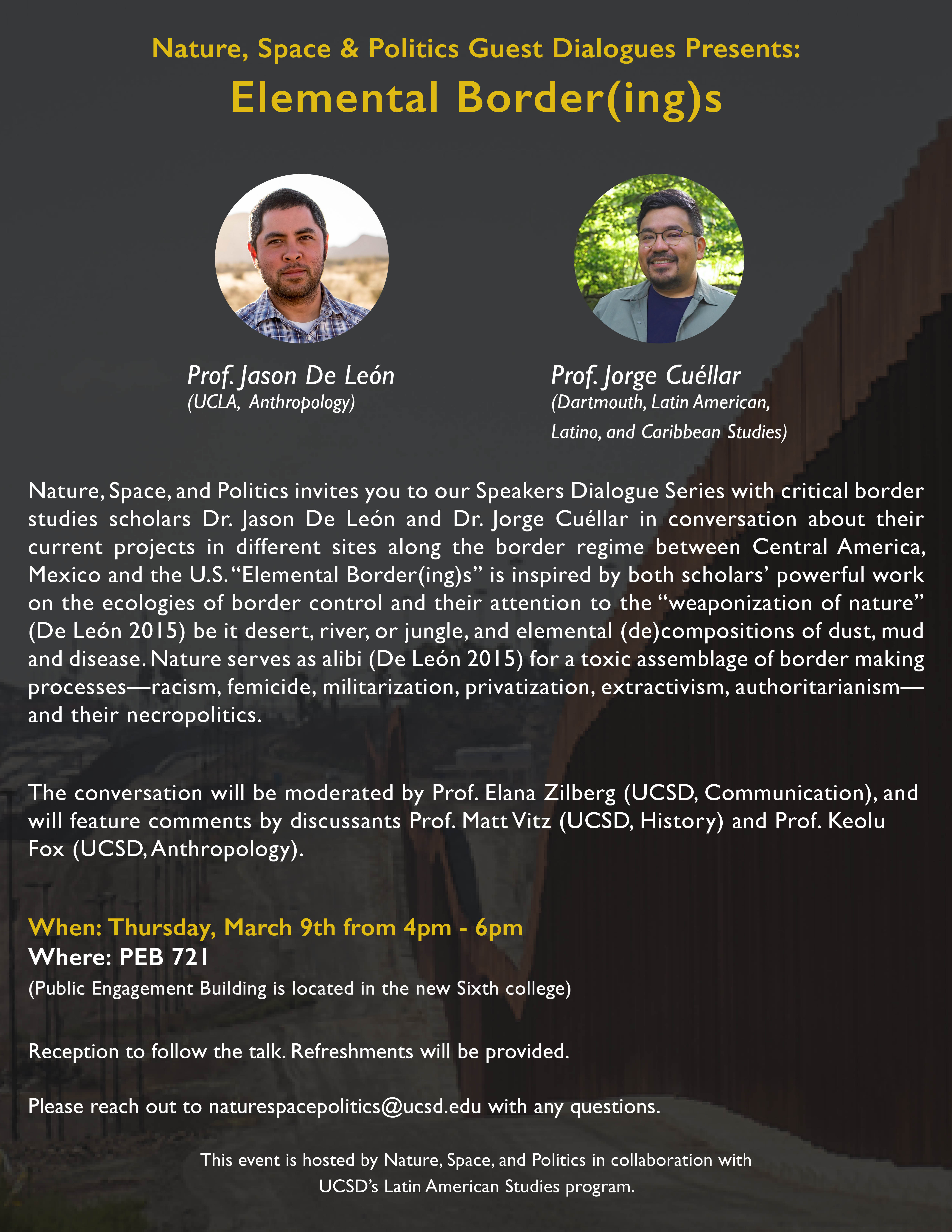 Thursday, March 9,  4- 6pm at PEB 721: Please join us for our Speakers Dialogue Series with critical border studies scholars Dr. Jason De León and Dr. Jorge Cuéllar in conversation about their current projects in different sites along the border regime between Central America, Mexico and the U.S. "Elemental Border(ing)s" is inspired by both scholars' powerful work on the ecologies of border control and their attention to the "weaponization of nature" (De León 2015) be it desert, river, or jungle, and elemental (de)compositions of dust, mud and disease. Nature serves as alibi (De León 2015) for a toxic assemblage of border making processes—racism, femicide, militarization, privatization, extractivism, authoritarianism—and their necropolitics. The conversation will be moderated by Prof. Elana Zilberg (UCSD, Communication), and will feature comments by discussants Prof. Matt Vitz (UCSD, History) and Prof. Keolu Fox (UCSD, Anthropology).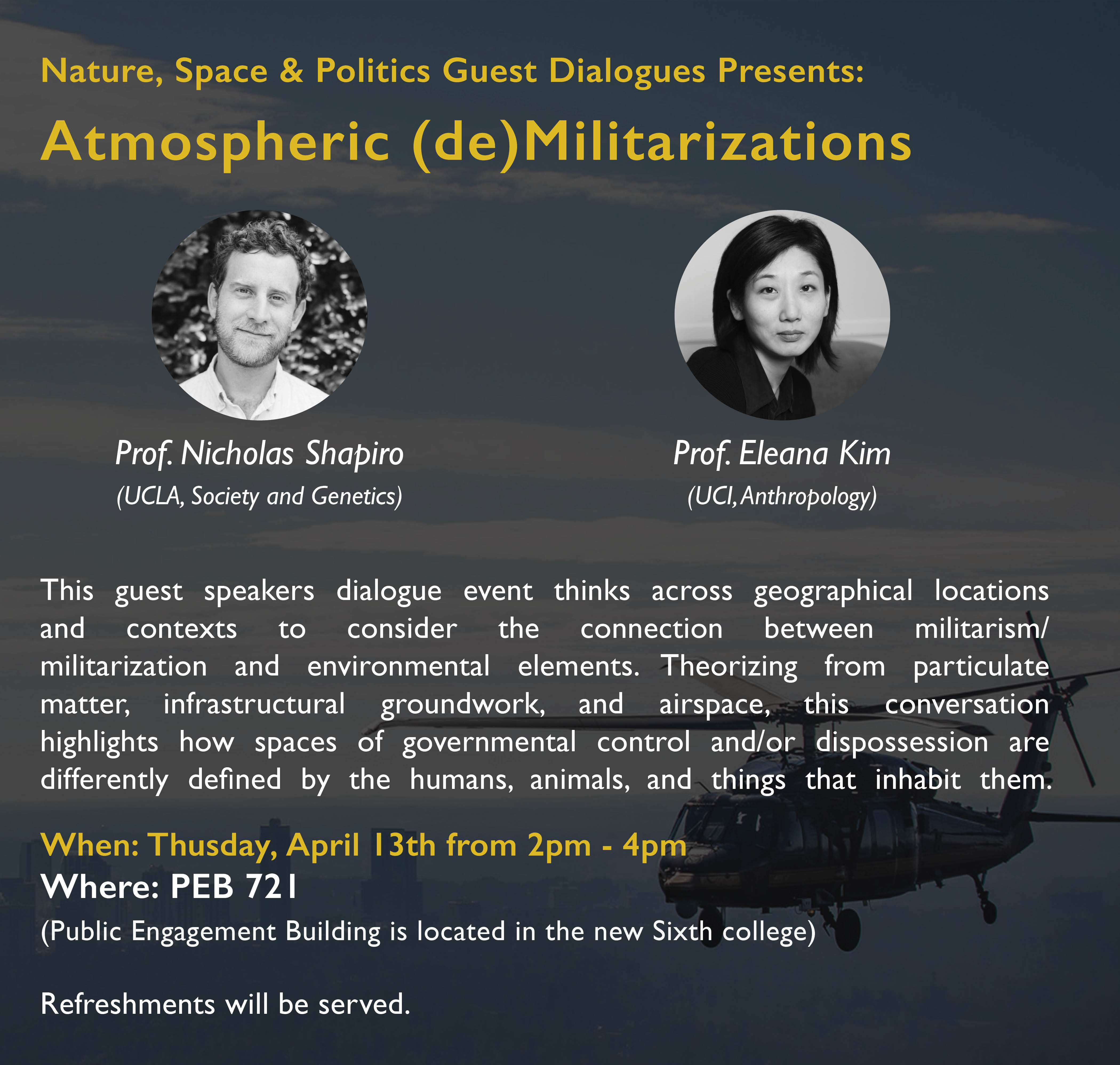 Thursday, April 13, 2-4 pm at PEB 721:  We are very excited to host the next NSP meeting, Atmospheric.  (de)Militarizations featuring Prof.s Eleana Kim (UCI, Anthropology) and Nicholas Shapiro (UCLA, Society and Genetics). In conversation with the guest speakers, this meeting will think through the human and more-than-human contributors to spaces of militarism/militarizations. Both scholars use ecological thinking to grapple with the production, complexity, and politics that composes militarized contexts and spaces. This conversation is an opportunity to engage with multiple environmental elements- toxicants, birds, invertebrates, surveillance technologies, people- to think through the multiple humans/animals/things that certainly shape and are shaped by, yet not entirely beholden to, state infrastructures and delineations. 
Reading & Informal Discussion Session on Tuesday Oct 12th (4:00 p.m. - 5:30 p.m. PDT @ zoom). For our first meeting of the year, we convine to discuss two readings and building upon the following provocations: what is border(ing) as method? How is it performed? Who can perform it? Why do border(ing)s matter/or not/beyond geographical & institutional borders?
Guest Speakers Lorena Gómez Mostajo, Rihan Yeh, and David Morison Portillo to discuss the recent publication of Border Looping/ Vueltas Fronterizo. The book discusses David's performance-protest crossing the US-Mexico border, and our conversation can expand on questions such as: What was the experience of doing the performance-protest? What editorial decisions went into the book's publication? How are the multiple forms of border(ing)s expressed in this act and book? What is the relation between transgression and refusal?
We urge you all to support Taller California, and purchase this wonderful book directly through them! You can find a copy to purchase at: https://tallercalifornia.cargo.site/Libros
 Standing Ground, Slowing Down, and Refusals to Extractivism in Kumeyaay Land. Tuesday, Dec. 7 from 2-3:30 pm Nature, Space, Politics hosts a conversation with Bobby Wallace, a leader of the Barona Band of Mission Indians. Wallace is an active organizer, involved in sending support from San Diego to Standing Rock, and in countering the SD-TJ border wall. Our conversation will emphasize the ways in which the border crosses Kumeyaay land, and the various practices of resistance and refusal against such division. We will focus attention on the extractive practices of borders, refusals to State borders, and contemporary Kumeyaay activism against the State bordering process. This meeting will also feature Prof. Boatema Boateng (Communication) and Prof. Cathy Gere (History; UCSD Green New Deal) as discussants. There is no reading for this event; please come prepared to listen and engage in conversation.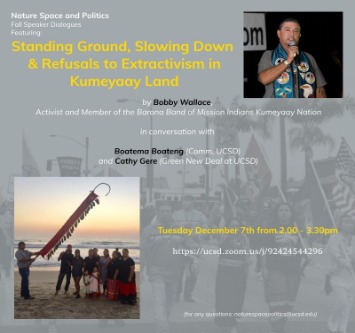 Book discussion of Matilde Córdoba Azcárate's new book on Wednesday, May 12th from 10:00 a.m. - Noon (PDT) at this zoom link. We are delighted to invite you to join us for a lively virtual conversation in celebration of Dr. Matilde Córdoba Azcárate's new book, Stuck with Tourism: Space, Power and Labor in Contemporary Yucatán (UC Press 2020) with the author and Drs. Bianet Castellanos, Chandra Mukerji, Mimi Sheller, and Manuel Xool Koh. With many thanks to our co-sponsors, the International Institute, Communication Department, Global Indigenous Peoples Group, Center for Iberian and Latin American Studies, the Latin American Studies Program, and the Center for U.S.-Mexican Studies.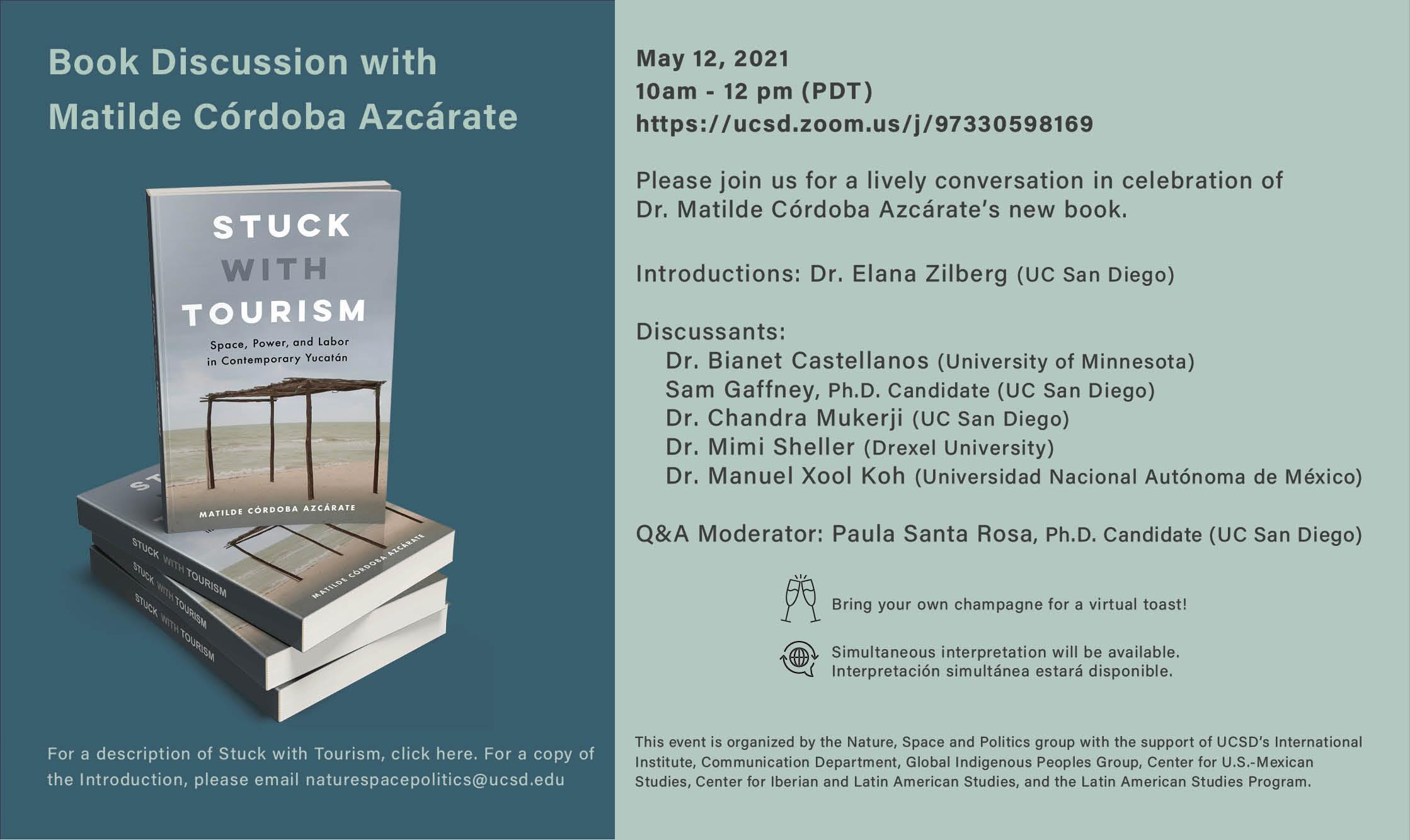 Film screening of "Warrior Women" & interview with Madonna Thunder Hawk (Lakota leader) on Friday April 23rd, 2021 (3 p.m. - 5 p.m. PST @ zoom). We are honored to co-sporsor this event with the Global Indigenous People Faculty and Graduate Group, Communication Department, Institute of Arts And Humanities, Ethnic Studies, Native American and Indigenous Studies, and Green New Deal at UC San Diego.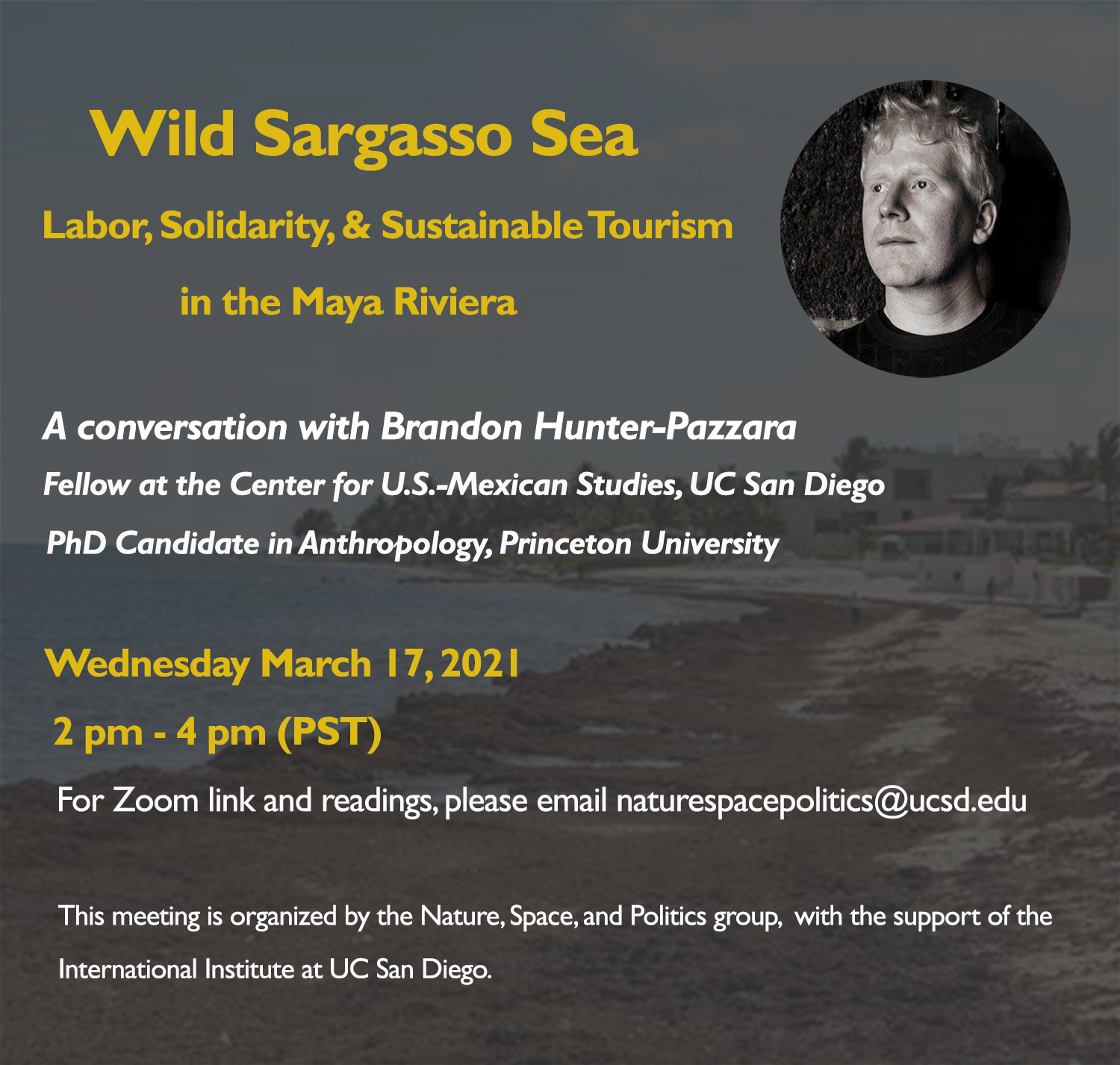 Guest Speaker Brandon Hunter-Pazzara (Princeton University) 
on Wednesday, March 17th, 2021 (2 p.m. - 4 p.m. PST @zoom). We are honored to welcome
Brandon Hunter-Pazzara
, a fellow of the Center for U.S.-Mexican Studies at UC San Diego and a PhD Candidate in Anthropology at Princeton University, for a conversation about his work on algae blooms and labor organizing in the Maya Riviera. We have circulated through our mailing list readings as companions his talk. These readings included Bradon's
 draft paper, 
Wild Sargasso Sea, 
and as optional readings the introductory chapters from two recent ethnographies that have helped to shape his thinking: Penny McCall Howard's
Environment, Labour and Capitalism at Sea
and Juno Salazar Parreñas'
Decolonizing Extinction
.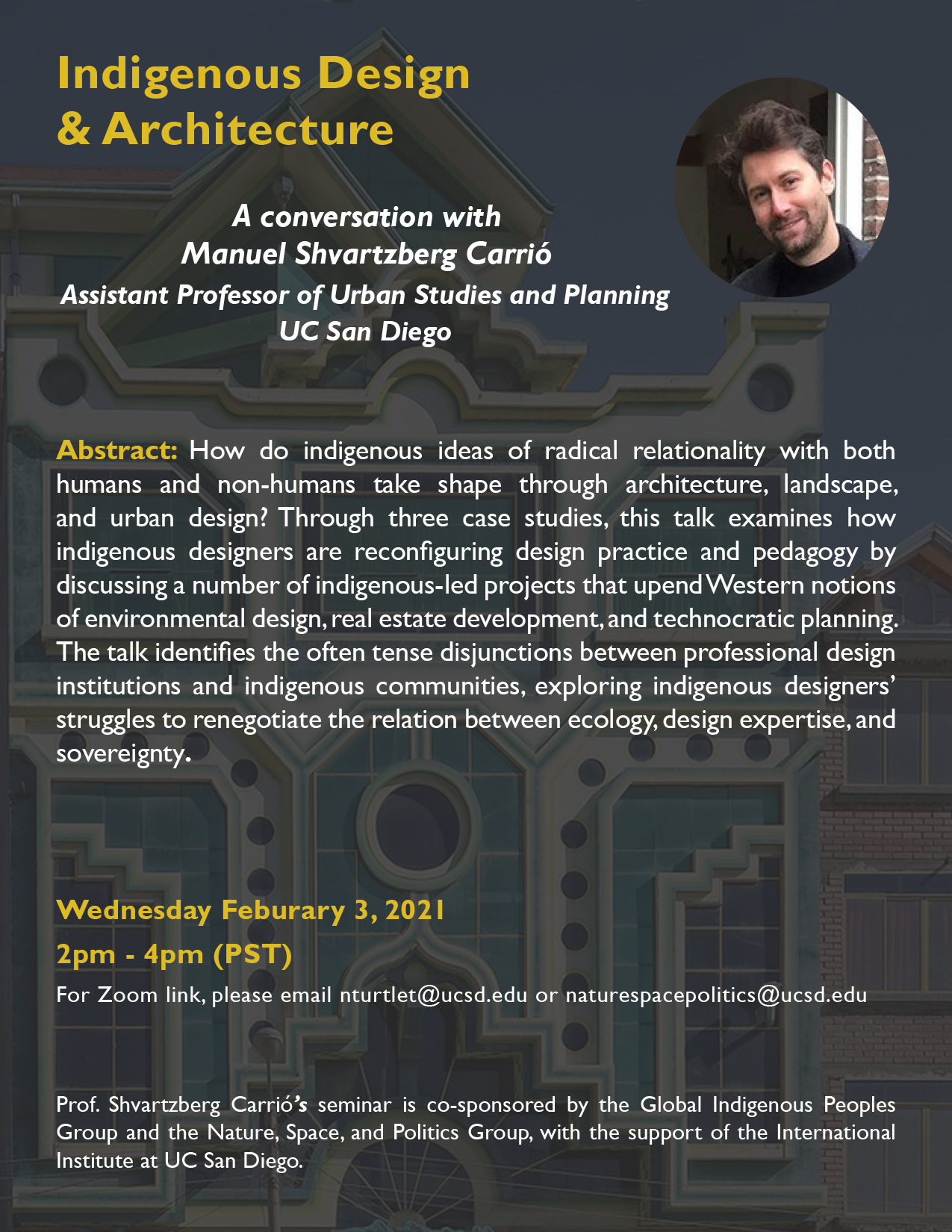 Guest Speaker Prof. Manuel Shvartzberg Carrió (UC San Diego) on Wednesday, Feb 3rd, 2021 (2 p.m. - 4 p.m. PST @ zoom) -  Prof. Shvartzberg Carrió, Assistant Professor of Urban Studies and Planning, will be talking about his work Indigenous Design and Architecture in a seminar co-sponsored with the Global Indigenous Peoples Faculty and Graduate Research Group and organized by Nancy Postero.
Film Screening & Discussion on "The Strenght of Salt: Impact of Lithium Extraction on the Indigenous Communities of Salinas Grandes" (Argentina) on Friday Jan 29th, 2021  (10 a.m. - 12:30 p.m.PST @ zoom) - We are honored to co-sporsor this event with Latin American Studies Program, organized by Prof. Luis Martín-Cabrera. The event includes a documentary screening of "Kallapa Kachi" by Marina Ruiz, followed by discussion in Spanish with the filmaker and panelists. 
Guest Speaker Prof. Laura Pulido (University of Oregon)

 
on Wednesday, Jan 20th, 2021 (2 p.m. - 3.30 p.m. PST@ zoom) -  We welcome
Prof. Pulido
, Collins Professor of Indigenous, Race, and Ethnic Studies and Geography at the University of Oregon, for a conversation about her work on Environmental Racism, Racial Capitalism, and Radical Ecologies. Prof. Pulido suggested the following readings as companions to her talk: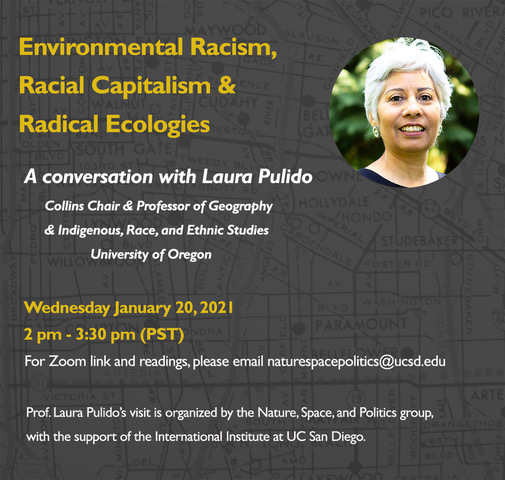 Talk title: "The Relationship Between Indigenous Rights and Rights of Nature: Lessons from Ecuador and New Zealand."

Abstract: Over the last decade, a growing number of countries have adopted legal provisions recognizing natural ecosystems as subjects with rights. In many cases, including Ecuador, Bolivia, and New Zealand, these laws resulted from Indigenous peoples' struggles to change the way "development" is understood and practiced in their territories. Yet, many Indigenous peoples remain skeptical and wary of the concept of "rights of Nature," which is a foreign concept that at best represents an imperfect attempt to translate Indigenous cosmovisions into Western legal systems. While some worry that rights of nature may conflict with indigenous rights, others see these rights as potentially inter-related and complementary. Dr. 

Kauffman

 examines the tension between Indigenous rights and rights of nature, and discusses how these tensions are being resolved through the application of rights of nature laws in Ecuador and New Zealand. 
Diverse Ways of Knowing Nature Workshop 

Urban Waterscapes Workshop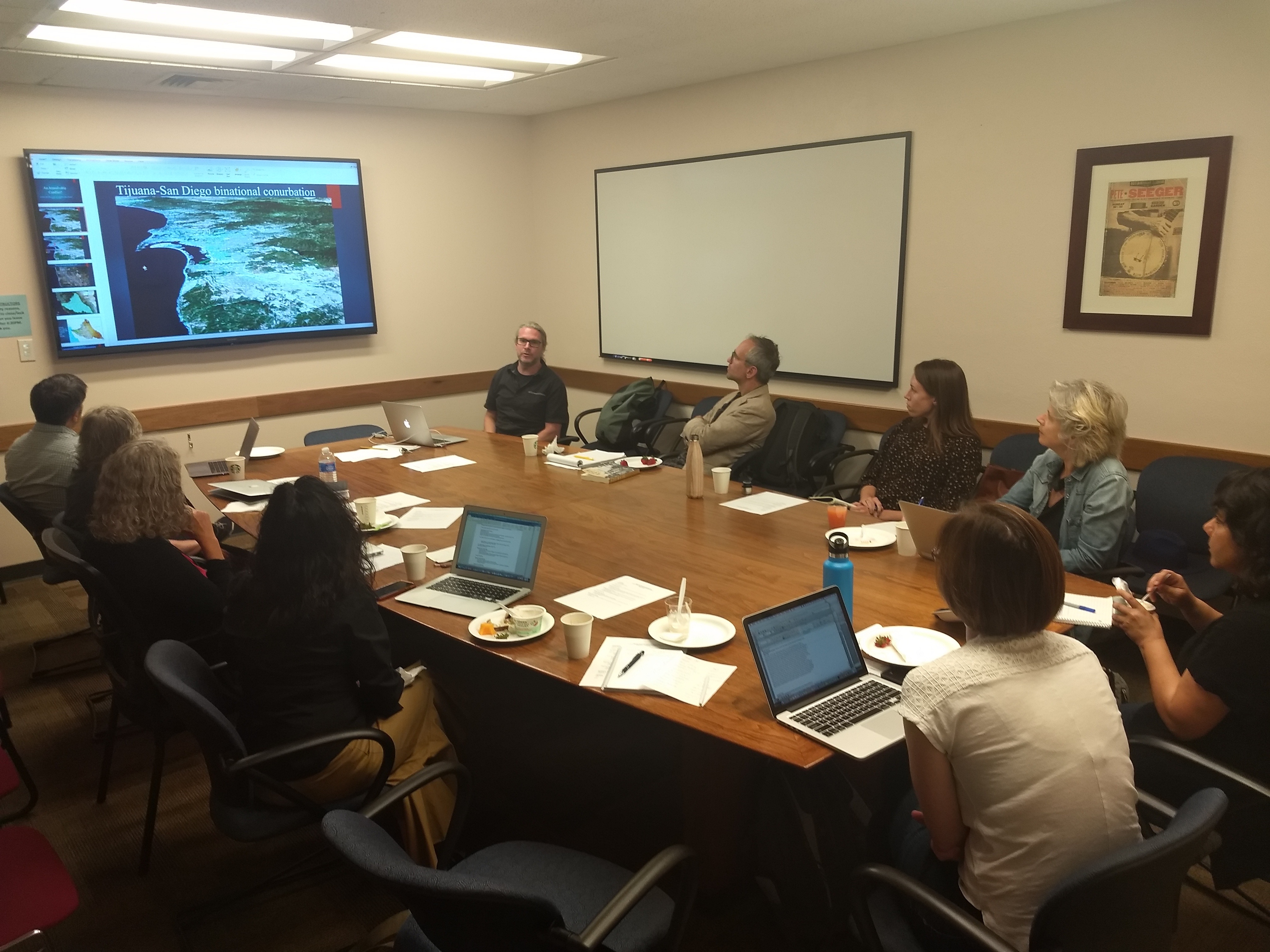 In June 2018, we organized a day long workshop on "Urban Water scapes" (June 2018) where we brought three guest speakers (Prof. Irene Klaver, Prof. Stephanie Kane, and Prof. Kim de Wolff) and where several of the members of the group (Prof. Elana Zilberg, Prof. Matt Vitz, Prof. Ameeth Vijay, Prof. Matilde Cordoba Azcarate and graduate student Kevan Malone) shared their work in progress. The workshop included a field-trip component as a binational tour in the Tijuana-San Diego estuary led by Oscar Romo of Alter Terra. See the Urban Waterscapes workshop program and participants' abstracts (PDF).